Shuchanna's Triathalon - Accepting donations until September 30
Time

September 30, 2017 Export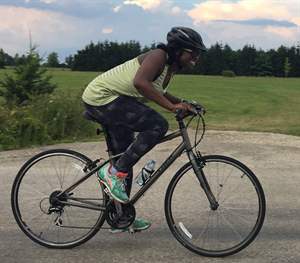 My name is Shuchanna Swaby and I am the Chair of the Board of Directors of HopeSpring Cancer Support Centre.  In August 2012, I was diagnosed with an aggressive form of breast cancer. Thanks to an incredible medical team, a personal dedication to my physical fitness, and the psychosocial support provided by HopeSpring Cancer Support Centre, I have overcome the disease and am now dedicating my time to ensure others on the cancer journey have the same access to emotional, spiritual and psychological support.  As a previous member of HopeSpring and now the Chair of the Board, this letter is to ask for your support as I complete a triathlon to raise funds for the organization. 
When I was diagnosed with cancer, I supported my surgery recovery and ongoing treatments with Tai Chi, yoga and a specialized fitness program for cancer patients offered through the hospital that accelerated my healing and overall recovery from cancer. While this fitness program aided greatly in reducing fatigue, improving my physical strength and endurance, and accelerating my recovery – I realized there was a missing piece from the puzzle of complete wellness.  My emotional and psychological health had taken a huge hit with my diagnosis and cancer treatment. The devastation of learning you have cancer took away my confidence and replaced it with depression, anxiety and constant fear. I was no longer "me". In 2013, while going through treatment, I had the good fortune of discovering HopeSpring Cancer Support Centre.
HopeSpring provides free psychosocial support for all those who have been impacted by cancer – whether or not you have been diagnosed or you are the family member or a caregiver or even a child of someone who has been diagnosed. HopeSpring offers an array of programs that promote healing and wellness such as our support groups, healthy cooking class, the Better Sleep course and the Healing Journey Course. The most unique offering is that of a Cancer Care Coach – where short-term, one on one counseling is provided to guide and support someone through the shock and distress and overwhelm that accompanies a diagnosis to a place where you find acceptance and strength and grace while continuing one's cancer journey.
The outcome for me was tremendous. I always say that while my doctors gave me my health back, HopeSpring gave me my life back.  My psychological and emotional health has improved dramatically as a result and I feel that I am "me" again, living a "new normal".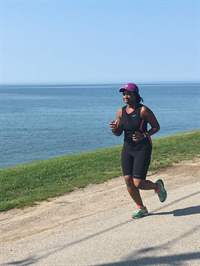 As I continue to live my "new normal" I have never forgotten the advantages gained through a fitness regime that helped build my confidence and continue to push myself to meet new physical fitness challenges. In 2016 I completed two triathlons, an exhilarating experience and triumph of the human spirit over adversity.  I did not know how to swim, but the confidence I gained back, thanks to HopeSpring, enabled me to overcome my fears and conquer yet another challenge.
I have decided to combine my newfound passion of physical fitness and wellness with my gratitude and dedication to HopeSpring.  On September 2, 2017 I will be participating in the Guelph Lake II triathlon in order to raise money for HopeSpring Cancer Support Centre. I and seven other "Wonder Women" who will be joining me in this race to raise funds have a combined fundraising goal of $20,000. 
By donating you can help expand HopeSpring's reach to help people impacted by cancer to take back control of their lives and live life to the fullest extent possible. Our catchment area extends throughout Waterloo Region, east to Wellington region, and even as far north as Owen Sound.   I believe that my life would not be as affirmative, optimistic and as hopeful as it is without HopeSpring.
Please donate so that others can experience the same hope. Donations may be made online through Canada Helps at https://www.canadahelps.org. Donations may also be made directly to HopeSpring by calling (519) 742-HOPE. Cheques may be made out to HopeSpring Cancer Support Centre.
Thank you for believing in the power of HopeSpring to change lives!
---