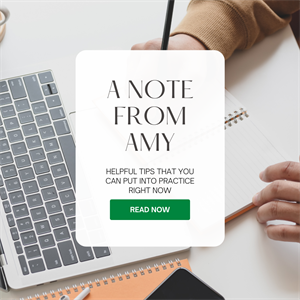 A Note from Amy
Coping with Loss
As we welcome November along with the colder rainy days, longer nights and the advent into darkness, this is often a time and period of loss and letting go for many of us as we begin to move to inward reflection and allowing more introspection into our daily lives.
How do we each cope with grief and loss in our own lives?
What is grief?
Grief is a natural response to loss. It's the emotional suffering you feel when something or someone you love is taken away. Often, the pain of loss can feel overwhelming. You may experience all kinds of difficult and unexpected emotions, from shock or anger to disbelief, guilt, and profound sadness. The pain of grief can also disrupt your physical health, making it difficult to sleep, eat, or even think straight. These are normal reactions to loss—and the more significant the loss, the more intense your grief will be.
Coping with the loss of someone or something you love is one of life's biggest challenges. You may associate grieving with the death of a loved one—which is often the cause of the most intense type of grief—but any loss can cause grief, including:
Divorce or relationship breakup
Loss of health
Losing a job
Loss of financial stability
A miscarriage
Retirement
Death of a pet
Loss of a cherished dream
A loved one's serious illness
Loss of a friendship
Even subtle losses in life can trigger a sense of grief. For example, you might grieve after moving away from home, graduating from college, or changing jobs.
Whatever your loss, it's personal to you, so don't feel ashamed about how you feel, or believe that it's somehow only appropriate to grieve for certain things. If the person, animal, relationship, or situation was significant to you, it's normal to grieve the loss you're experiencing. Whatever the cause of your grief, though, there are healthy ways to cope with the pain that, in time, can ease your sadness and help you come to terms with your loss, find new meaning, and eventually move on with your life.
Symptoms of grief
While loss affects people in different ways, many of us experience the following symptoms when we're grieving. Just remember that almost anything that you experience in the early stages of grief is normal—including feeling like you're going crazy, feeling like you're in a bad dream, or questioning your religious or spiritual beliefs.
Seeking support for grief and loss
The pain of grief can often cause you to want to withdraw from others and retreat into your shell. But having the face-to-face support of other people is vital to healing from loss. Even if you're not comfortable talking about your feelings under normal circumstances, it's important to express them when you're grieving.
While sharing your loss can make the burden of grief easier to carry, that doesn't mean that every time you interact with friends and family, you need to talk about your loss. Comfort can also come from just being around others who care about you. The key is not to isolate yourself.
Turn to friends and family members. Now is the time to lean on the people who care about you, even if you take pride in being strong and self-sufficient. Rather than avoiding them, draw friends and loved ones close, spend time together face to face, and accept the assistance that's offered. Often, people want to help but don't know how, so tell them what you need—whether it's a shoulder to cry on, a listening ear, or just someone to hang out with. If you don't feel you have anyone you can regularly connect with in person, it's never too late to build new friendships.
Draw comfort from your faith. If you follow a religious tradition, embrace the comfort its mourning rituals can provide. Spiritual activities that are meaningful to you—such as praying, meditating, or going to church—can offer solace. If you're questioning your faith in the wake of the loss, talk to a clergy member or others in your religious community.
Join a support group. Grief can feel very lonely, even when you have loved ones around. Sharing your sorrow with others who have experienced similar losses can help. To find a bereavement support group in your area, contact local hospitals, hospices, funeral homes, and counseling centers, or see the links below.
Talk to a therapist or grief counselor. If your grief feels like too much to bear, find a mental health professional with experience in grief counseling. An experienced therapist can help you work through intense emotions and overcome obstacles to your grieving.
 Taking care of yourself as you grieve
When you're grieving, it's more important than ever to take care of yourself. The stress of a major loss can quickly deplete your energy and emotional reserves. Looking after your physical and emotional needs will help you get through this difficult time.
Face your feelings. You can try to suppress your grief, but you can't avoid it forever. In order to heal, you have to acknowledge the pain. Trying to avoid feelings of sadness and loss only prolongs the grieving process. Unresolved grief can also lead to complications such as depression, anxiety, substance abuse, and health problems.
Express your feelings in a tangible or creative way. Even if you're not able to talk about your loss with others, it can help to write down your thoughts and feelings in a journal, for example. Or you could release your emotions by making a scrapbook or volunteering for a cause related to your loss.
Try to maintain your hobbies and interests. There's comfort in routine and getting back to the activities that bring you joy and connect you closer to others can help you come to terms with your loss and aid the grieving process.
Don't let anyone tell you how to feel, and don't tell yourself how to feel either. Your grief is your own, and no one else can tell you when it's time to "move on" or "get over it." Let yourself feel whatever you feel without embarrassment or judgment. It's okay to be angry, to yell at the heavens, to cry or not to cry. It's also okay to laugh, to find moments of joy, and to let go when you're ready.
Look after your physical health. The mind and body are connected. When you feel healthy physically, you'll be better able to cope emotionally. Combat stress and fatigue by getting enough sleep, eating right, and exercising. 
May we each find grace, peace and joy in this coming month
Take good care of you
😊
Amy, Cancer Care Counsellor
Support Available at HopeSpring